Nail art is a creativity for an artist and it is very interesting for an artist. Trough the nail art we can maintain our nails.
How To Do Nail Art At Home
Nail art is very simple and can be done with some interesting things these we can find out at home. In latest fashion world nail art is very important. When you do nail art first you see what a season, and occasion after decide which design do you want on your nails .so read this post for your pretty nails.
Tri Color Cliffs Nail Art
Tri-color nail art is very super and perfect. And this type nail art is very simple and perfect choice for whom they don't know more and just starting a nail art and etc. In this type nail art, you don't need any extra tools for making nail art you can make this design with your nail polish brushes. In this post, we will be described some color but everything depends on you if you want some different color it's your choice.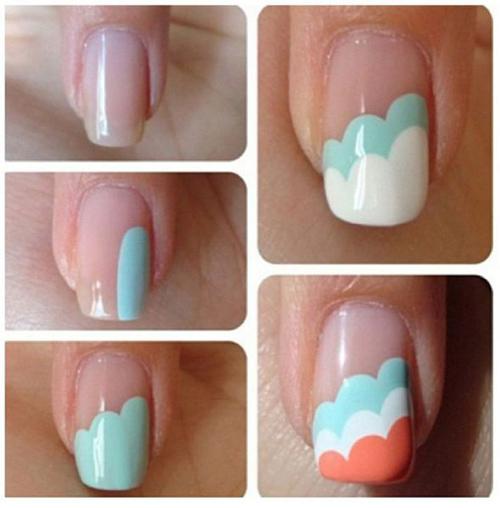 What You Will Need
Pastel blue nail polish
White nail polish
Pastel coral nail polish
How To Apply?
– First of all clean your nail with nail paint remover.
– On clean nails, apply a base coat to protect your nails from the bad chemical.
– First, use the blue color from start corner and last is verticle.
– Now paint from center a little lower.
– Now create the last stripe.
You should see what looks 3 steps.
– Repeat any steps but starting from last the blue.
– Do the same with any color.
Bow Nail Art Tutorial
Bow nail art doing with just the nail polish, this is also incredibly simple nail art that you can easily do with the simple steps. it is a very casual and simple,
sweet nail art.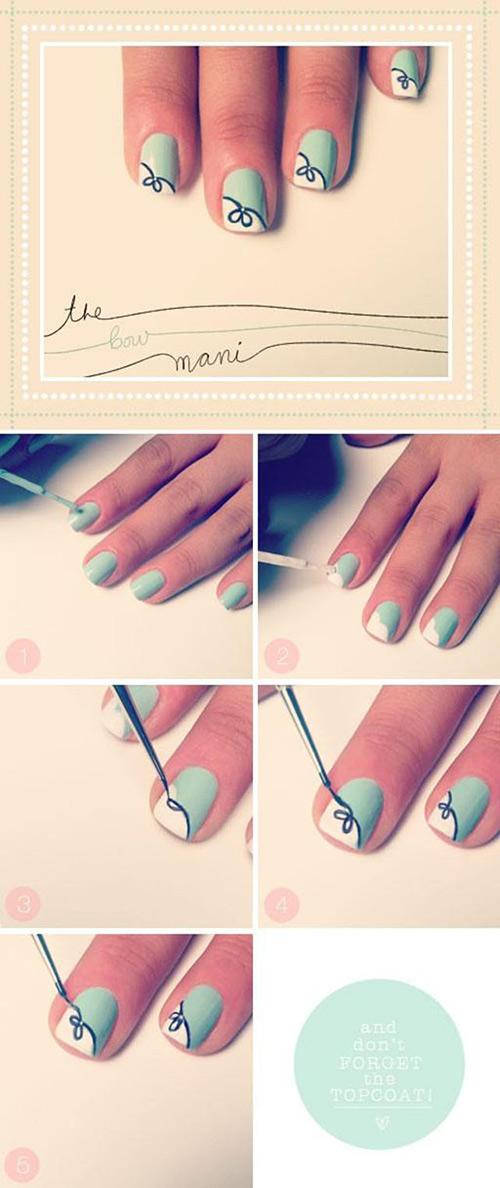 What You Will Need
Sky blue nail polish
White nail polish
Black nail polish
Nail Striper
How To Apply?
– First, apply the blue color nail paint as a base color.
– Second paint white color nail paint in heart shape over blue color.
– Now using a black paintbrush for design and you should follow the design from the image.
– Now seal its design with top coat and you are ready to go.
Splatter Nail Art Tutorial
This is a one of the most and easy nail art. If you want a fun to paint on your nail you should try it.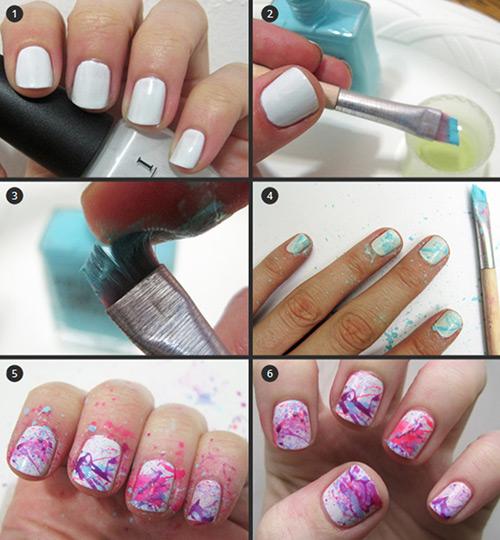 What You Will Need
White nail polish
Light blue nail polish
Purple nail polish
Pink nail polish
A stiff paint brush
How To Apply?
– Paint your nail with white color as the base color.
– Now come on the fun part and find a brush, dip it in the different colors and run fingers through the brush and paint nails so that brush on your nail.
– Repeats the same thing with all other different colors.
– For good result, you should have a nice splatter nail art.
– For clean your figure use a cotton and dip in your nail paint remover and clean the sides of nails.
– Now seal the design with top coat and ready for go.
Glitter V-Tip Nail Art Tutorial
When you want to go in the party you just want some sparkles and glitters on yourself. For all you had going to the salon, beauty parlor they are very costly and
can not do anything in short time. That's why this is the perfect nail art for party and etc.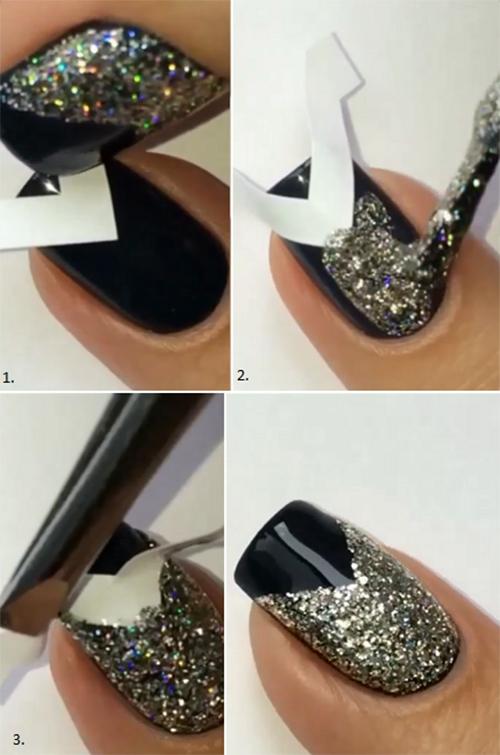 What You Will Need
Black nail polish
Silver glitter nail polish
A 'V' shaped sticker or a piece of tape.
How To Apply?
– First, you just need paint your all nail with black color like a base coat.Place V shape sticker near your figure as tips shown.
– Paint the remaining part with glitter polish.
– Wait a minute for dry glitter polish and after pulling away sticker from your nails.
– Now seal it with top coat.
Galaxy Nails
These type nails are giving feelings like out of the world. and everyone loves with space. Looking so pretty nail for the party and casual.
What You Will Need
Black nail polish
Metallic green nail polish
Pink nail polish
Blue nail polish
Makeup sponge
Glitter top coat
How To Apply?
– First, start with a black color as a base color.
– Second, apply some metallic green on a makeup sponge/ brush and dab it onto your nail smoothly.
– Now the same way applies the pink metallic on a makeup sponge and dab onto the nail smoothly.
– Continue the same process a blue shade and dab onto nails.
– After this point, your nails will start to resemble the galaxy.It's looking so pretty, attractive.
And last, add some glitter.
– Now seal with top coat.